ABOUT US
The QueueRite system is a highly-customizable queue management system that allows business owners to offer more ease and convenience to customers who are waiting to be served. QueueRite is very economical; it also systemizes workflow. This software is also highly-customizable so you can use it to your company's advantage.
With other software programs that are in the same league as QueueRite, you are compelled to use specific hardware devices to respond to compatibility issues. The good news is that with QueueRite, you do not need to make additional purchases for such hardware devices because this system is not exclusive to any brand or model of hardware device. As long as you have a desktop PC, LCD monitor and POS printer at hand, you can use Queuerite without encountering issues with hardware compatibility.
QueueRite was created by Ivant Technologies and Business Solutions, Inc., a Philippine-based company that offers web applications and custom software development services to companies that belong to different industries.
CONTACT US
IVANT Technologies and Business Solutions, Inc.
Unit 2009 20th floor Prestige Tower
F. Ortigas Jr. Road, Ortigas Center, Pasig City
Metro Manila, Philippines, 1605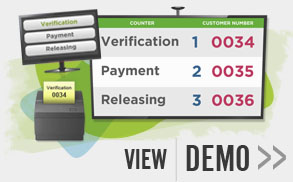 TotalQueue Software - the complete Customer Queue Management System!
LEARN MORE