Queuerite News
Biggest PAL booth at Travel Expo 2014 deploys the QueueRite System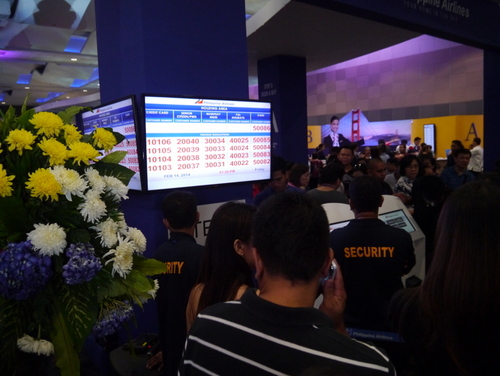 This year's Travel Tour Expo (TTE) of the Philippine Travel Agencies Association (PTAA) will have Philippine Airlines' (PAL) biggest-ever participation at any trade fair – at 1,100 square meters – to accommodate the volume of customers availing of PAL's low-priced tickets that can only be bought at the TTE from February 14 to 16, 2014.
The huge PAL booth at the second floor of theSMXConvention Center,PasayCity, will have more than 50 ticket counters and various amenities to keep customers entertained while waiting to be served.
Dedicated counters will also make queuing less stressful for Elite and Premium Elite Mabuhay Miles members.
Rock-bottom tickets that entitle passengers to full-service amenities annually attract overflow crowds to the PAL booth that will be manned by more than 50 ticketing agents from10 AMto9 PMto handle all types of transactions.
PAL is a platinum sponsors and official airline of this year's 21st TTE, having been a regular participant since its inception by PTAA in 1994.
Last year, TTE had approximately 76,000 visitors to the more than 500 booths that were used by 235 exhibitors.
Source > http://www1.philippineairlines.com/news-and-events/biggest-pal-booth-travel-expo-14/