QUEUERITE Screenshots
QueueRite LCD TV Display Board
The Customer Display Screen is exactly what the name suggests. It is the display that will be flashed on the LCD screen. Because it is made for viewing purposes; various images and/or videos can be uploaded on the Content Management System (CMS) and displayed on this screen, or as the client prefers.
Aside from the images or videos that will be displayed at the topmost portion of the LCD screen, the Customer Display Screen also displays the section name and the counters under each section as well as the queue number currently being served and the queued numbers on the waiting list.
QueueRite System Management Module
The system management module is the last module in the main menu of the QueueRite software program. It is where images and videos can be uploaded. It also offers an option for configuration as well as for the generation of reports, if the client prefers to have one generated.
QueueRite Call Next Module
The Call Next Module offers a lot of options for the tellers. One of these options is the option to click on a button to call the next customer, or to call the customer again. Meanwhile, the teller can also jump to the next queued number if the customer to be served has already left. In case that customer returns, the teller has the option to manually insert his or her queued number in this next module so that it can be called again.
QueueRite Mobile Page
Any mobile device with a web browser can be used to access the QueueRite software. Some of the screens are optimized for mobile devices.
CONTACT US
IVANT Technologies and Business Solutions, Inc.
Unit 2009 20th floor Prestige Tower
F. Ortigas Jr. Road, Ortigas Center, Pasig City
Metro Manila, Philippines, 1605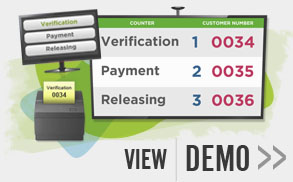 Order Ready Mobile App
Customer Order Alert Screen Notify your customers once their Orders are ready!
LEARN MORE
TotalQueue Software - the complete Customer Queue Management System!
LEARN MORE
The field employee tracking mobile software that will automate the activities reports for your field workforce!
LEARN MORE